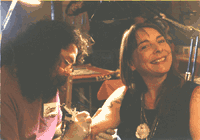 I first met Suzanne back in 1989. I knew her casually before that, but that year at the National Convention in Arlington Texas was the first time that I hung around with her. I had thouroughly been blown away by her tattooing for several years but as I got to know her I was even more in awe.Thats Creeper, right, tattooing her in our Booth at Mad hatters - around 91 or possibly 92.


---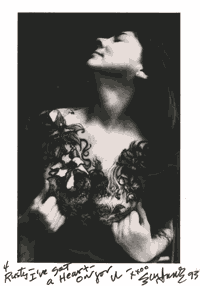 I found that becoming Suzannes friend entailed a robust sense of "sharing" with one another. She would send me fabulous Art books or ocassional gift and once sent me an antique bicycle license plate from my birth year. I sent her several art books as well and each time she already had it. I would see her infrequently at Conventions (actually it was every few months for a few years in the 90s) and she would be such a blast to hang out with, visiting old and new friends all evening long. Being a high school art teacher for 13 years and had Master of Fine Arts degree so she was definitely an intellectual. But Suzanne also had such a great wit and, as it happens, sometimes a quick tongue to match. At left, Suzanne "Bares it" with deserved pride.
---
After being pretty good friends for a couple of years we decided to sail on the National 1993 Cruise together. What a blast we had. Quite a few of us actually had a helluva lot of fun. Suzanne and Glenn and Carol Freison and myself tore around the Bahamas on scooters and terrorized the whole place.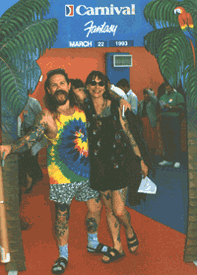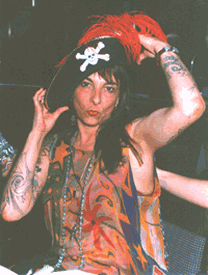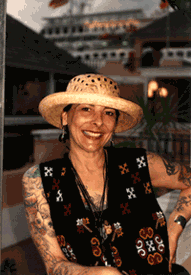 Suzanne really could have fun and she lit up a room everytime she came in. I remember that Suzanne seemed like she was in good health and in fact, really in good health! She saw the art in everything. Tattoo as Art, Life as Art. It really did mean something to her. As did her friends....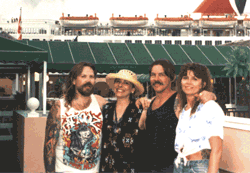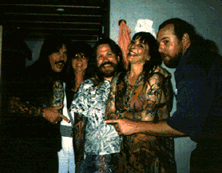 I also went to Suzannes' Place to visit her and to get tattooed. I wound up working at her shop for a week and hung out at the hot tub all evening. Suzanne's day at the shop seemed mellow to me. Of course I was used to a busy (Chaotic) walk-in shop with 4 or more artists. She had a couple of appointments a day, usually, and the music was light and it was quiet and there were books everywhere. There wasn't really any flash at all. It must have had some effect on me because thats how it is in the shop for me now, well almost - got a lot of flash I guess. A final note to mention, about the "artitst" in her. Suzanne drew everyday. Of course she drew at work, but she also drew at home and in the evenings she would sit around and doodle and sketch until the early hours. I got tattooed by her in '93 when I visited her. It is a fantastic puma on my shoulder. Getting Tattooed by Suzanne was a lot of fun. She stood like an artist at a canvass and with one sweeping stroke after another she did her magic. What an artist she was. I really can't express the loss, that Suzanne would go so young and really be gone so suddenly. I remember that her parents were such nice folks and we greive for their loss too. Good bye Suzanne we will miss you.
---
Copyright © 1997-2001 Rusty Savage All Rights Reserved.
Legal Notices | Terms of Use | Privacy Statement |